Grated raw beets, tart apples and carrots combine beautifully in a healthy, nutritious salad that my kids love.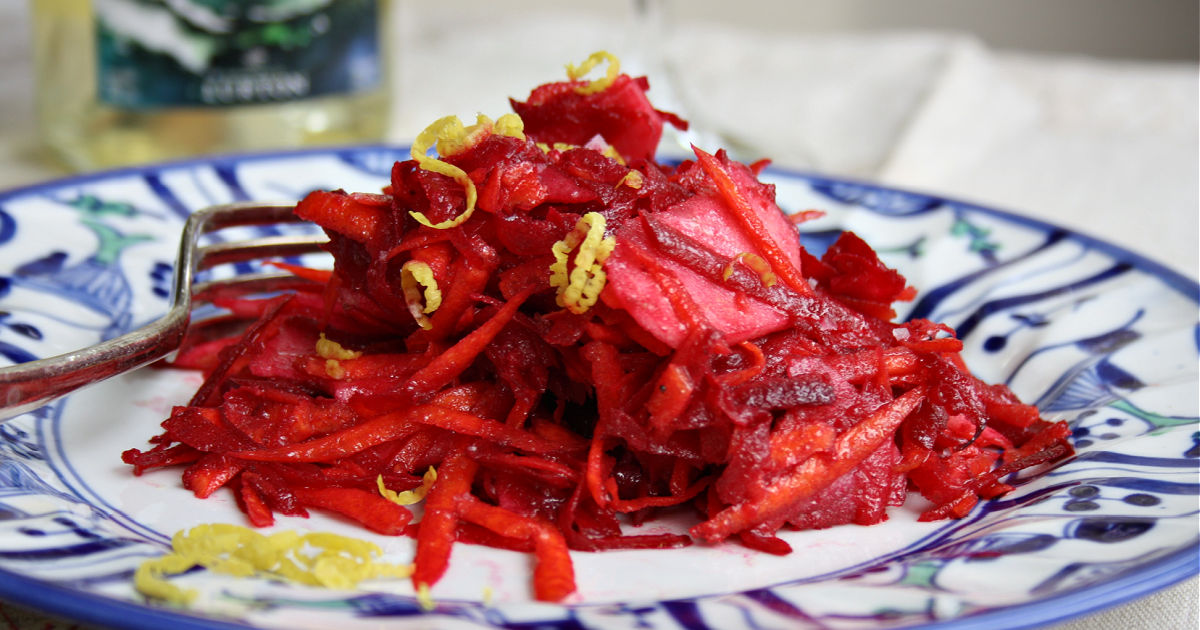 Change up your salad with a crispy slaw made of grated beets, tart apples and grated carrots. 
We're having glorious sunny weather in our part of the country and finally some warming days so the buds are just about to burst. The kids are about to burst too. They're wearing shorts to school (it's only two degrees in the early morning) and riding their bikes around the neighbourhood until dusk. Our little street is a mass of chalk palaces. The house is full of sand.
This is the spring we have been waiting for and with spring comes a whole new kind of salad craving. I don't want anything too leafy these days and I want colour. Lots of colour.
I pile this beet and tart apple salad on my kids' plates and they eat it all up.
Firm, tart green apples are the perfect foil for the earthy flavour of beets. And molasses is just the right sweetener for the vinaigrette since it offers flavour that works so well with beets.
Beet and tart apple salad recipe
Course: Salads
Total time
1
hour
10
minutes
Ingredients
1 medium beet

2 carrots

1 granny smith apple

Zest of one lemon

1 1/2 Tbsp. vinegar (apple cider or wine vinegar)

1/2 Tbsp. maple syrup or honey

3 Tbsp. good olive oil

Sea salt & pepper

Juice of ½ a lemon (optional)
Directions
Peel the beet, carrots and apple and grate them on the coarse side of a box grater. (Or thinly slice the apple if you'd like some variety to the texture)
Toss together in a serving bowl.
In a small bowl, combine the vinegar and maple syrup (or honey) then whisk in the olive oil.
Season with salt and pepper.
Pour dressing over the grated mixture a little at a time, tossing as you go, until you have the salad dressed to your liking.
Sprinkle over lemon zest and a squeeze of lemon juice