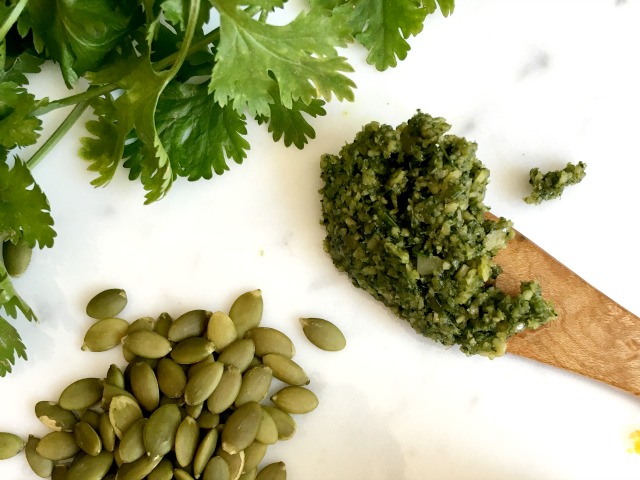 Pumpkin Seed Pesto with cilantro and lime can make a good meal great.
I think this recipe came out of some magazine way back. Or may be it's from a cookbook. I can't really remember. Enough to say it didn't come out of my head and I don't even have it written on a scrap of paper anywhere.
All I can say is that I have a thing about pumpkin seeds and I buy them in five-pound bags through my Speerville Flour Mill buying group. Raw, organic, chewy and a little bitter, I'm forever hunting down ways to eat them.
Their bitterness isn't always popular in our house though (my daughter picks them out of cookies and granola) so finding a recipe that balances the bitter without overpowering the unique flavour isn't always easy.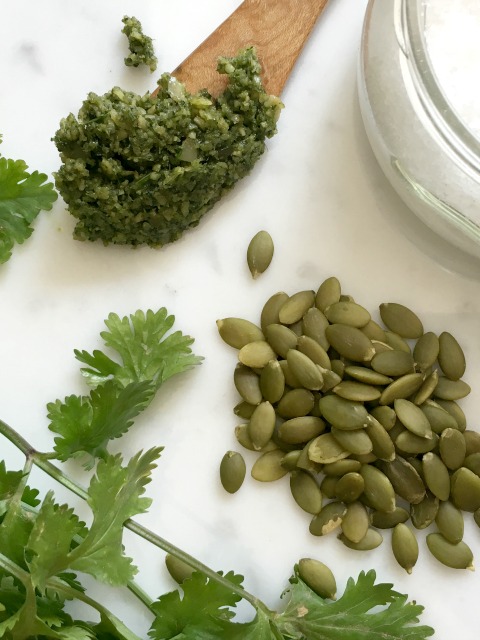 Pumpkin Seed Pesto goes with everything
This is my favourite pumpkin seed recipe and a special treat for my husband. We enjoy it alongside fish but it's equally good as a sandwich spread. Try it in tacos, with veggie burgers. Honestly I think it goes with everything.
Because everything goes in the food processor I use the herb stems too. (They have lots of flavour so no need to put them in the compost.)
I love lots of lime juice in my pesto. Depending on your preference, you might want to begin with the juice and zest of half a lime and go from there.
Pumpkin Seed Pesto Variations:
Add a clove of garlic in step one
Use lemon in place of lime
For a smooth pesto that's the texture of hummus use only 1/2 cup of pumpkin seeds
Add 1/4 cup fresh basil
Pumpkin Seed Pesto with Cilantro and Lime
Course: Appetizers, Cooking with Bridget TV
Difficulty: Easy
Ingredients
1 cup raw pumpkin seeds, toasted lightly

2-3 cups cilantro leaves u0026 stems

juice and zest of one lime

1/2 tsp salt

pinch of cayenne, red pepper flakes or piri piri

1/3 cup good olive oil
Directions
Put pumpkin seeds and cilantro in your food processor and whirr until crumbly.
Add remaining ingredients and process until combined, scraping down the sides a few times. (Take care not to puree it, you want some texture.)
Adjust seasoning to taste (I often add more lime).