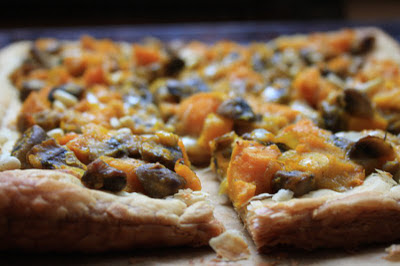 Savoury and sweet, crispy and smooth, this savoury winter squash tart is a delight to eat
I love recipes that offer endless adaptations, delicious dishes that work well as a light lunch alongside a salad, as a first course at a dinner party or as an appetizer with a glass of wine or beer. I also love recipes that offer new ways to make use of the 50 lbs. of local buttercup squash that I bought in October.
This tart is a keeper. Savoury and sweet, crispy and smooth, it's really a delight to eat.  I enjoy it with the flavour combination below but other times I toss sage and sliced onion in with the squash as it roasts, and use feta instead of old cheddar in the topping. And may be add a few capers… 

Savoury roasted squash tart
One buttercup squash, peeled, seeded and cut into ½" pieces

1 clove garlic, pressed or finely chopped

1 tsp. sherry vinegar (or red wine or cider vinegar)

¼ cup plain yogurt or sour cream

1 cup shredded sharp cheese (combine parmesan with old white cheddar)
Toss the squash with 2 T olive oil, season with sea salt & pepper and spread on a parchment paper lined baking sheet. Bake at 375 for 20 min or so, until just tender. Cool.

Meanwhile, in a skillet melt the remaining 2 T oil with the 2 T butter. Saute the onion and garlic for a couple of minutes then add the mushrooms. Cook, stirring, until tender. Add vinegar and nutmeg (if using). Toss with the cooked squash.

Place puff pastry on a parchment lined baking sheet, pierce with a fork and bake at 400 for about 15 minutes (until lightly golden).

Combine the egg yolks, yogurt, cheese and thyme. Season with salt & pepper. Mix gently with the squash mixture.

Spread squash mixture on the pre-baked puff pastry. Sprinkle with pine nuts. Bake at 400 for about 15 minutes (until topping is warmed through).
Note: These days I always omit the yogurt and egg yolk. The squash is so creamy on its own it hardly needs anything added.