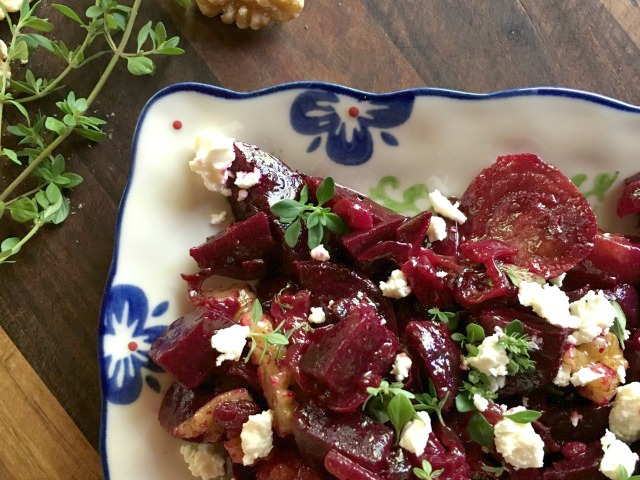 Tossed with caramelized onions, tangy feta and a tart mustard vinaigrette, beets can be the star of the meal.
Local markets are overflowing with beets, one of those beautiful but underappreciated vegetables that grows so well in our climate.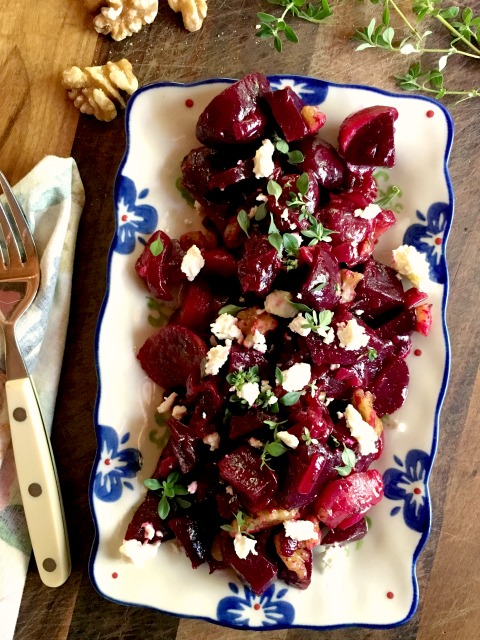 If you think you're not fond of beets I'm willing to bet a taste of this roasted beet salad will make you reconsider.
Roasted beets have a wonderfully rich taste. Roasting seems to concentrate their flavour and their sweetness, not to mention their gorgeous colour. When tossed with caramelized onions, tangy feta and a tart mustard vinaigrette, humble beets can be the star of the meal.
Tips:
For an extra rich flavour, substitute walnut oil for some (or all) of the oil called for in the vinaigrette recipe.
Leftover roasted beet salad can be tossed with gnocchi or boiled new potatoes.
Be sure to try the beet stack version as well (instructions at the bottom of this post).
Roasted Beet Salad Recipe with Caramelized Onions and Feta
Course: Appetizers, Salads
Difficulty: Medium
Total time
1
hour
10
minutes
Ingredients
2 onions, thinly sliced

3-4 roasted beets, peeled and diced

½ cup crumbled feta

¼ cup walnuts or pine nuts, toasted

1 tsp. fresh thyme (lemon thyme, if you have it) or 1/4 tsp. dried thyme

Vinaigrette

3 Tbsp. cider vinegar

1 tsp. Dijon or coarse-grain mustard

1/2 tsp. salt

¼ tsp. ground pepper

5 Tbsp. good olive oil
Directions
To roast beets
Wrap them, unpeeled, in foil. Place directly on the oven rack and roast at 375 F for about 40 minutes or until they can be pierced with a fork. When they're cool enough to handle, slide the skins off and dice the beets.
To make dressing
To make the dressing: whisk the vinegar and Dijon. Whisk in remaining ingredients.
Assemble the salad
Saute onions over medium heat for at least 10 minutes (longer if you have time).
Combine the onions with half of the dressing and add to beets. Toss. Add more of the dressing, to taste.
Gently fold in feta and sprinkle over the thyme and nuts.
Serve on a bed of greens.
Beet Stack Variation:
Slice the roasted beets very thin (into discs).
Stack with a slice of chevre in between.
Spoon the onion-dressing mixture overtop and sprinkle with nuts.
Serve each stack on a bed of arugula.
So many more recipes for beets…
Fresh beet and tart apple salad