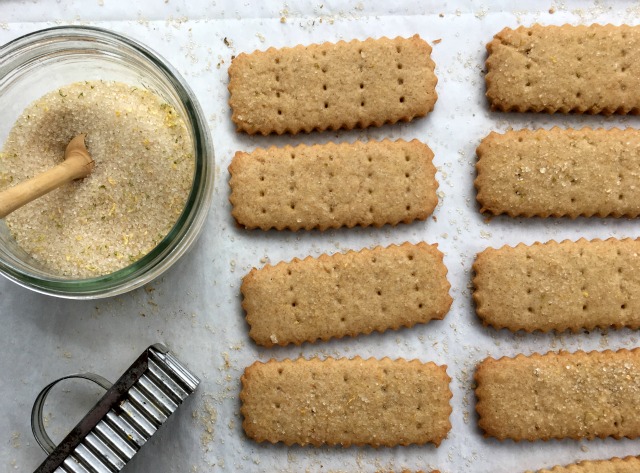 Lemon biscuits are an old fashioned cookie for nibbling and dunking.
The year I lived in France my mom and dad came to visit for a couple of weeks. We did some travelling together but we also spent time in the town where I lived so I could show them around and introduce them to my friends.
One afternoon we had coffee with the parents of my landlord, Marie-France. Her mom served crumbly biscuits with coffee so there were crumbs scattered on the table. Before we knew it Marie-France's mom had the Dustbuster out and was vacuuming the crumbs around our plates and cups while we ate and drank and chatted. It was hilarious but she was very serious about it so we couldn't laugh. It was like getting the giggles in church.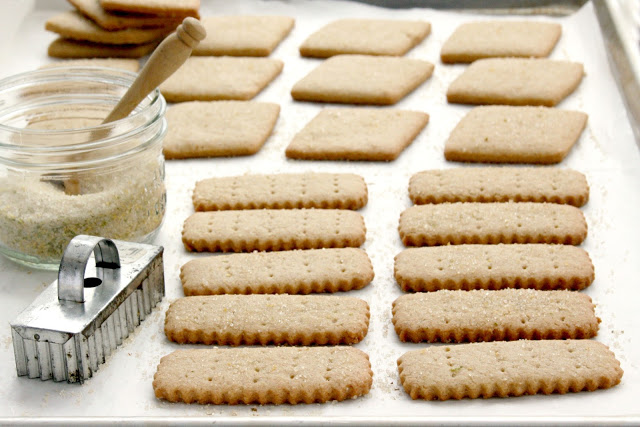 There are very simple biscuit-like cookies made in France by a bakery called LU and the lightly sweet LU Le petit Beurre biscuits can be found in every grocery.
These lemon biscuits remind me of the LU biscuits in that they aren't too sweet and have a pure, simple flavour. They're just the thing to nibble in January after a December filled with over-the-top sweets.
Mom has been making these biscuits for years, a recipe out of the excellent Laura Secord Canadian Cook Book. The original recipe calls for oil of lemon but I have substituted lemon zest. I also make mine with stone ground whole white flour which gives them more of a golden colour and extra flavour and nutrition. Make this oh-so-easy Citrus Sugar to sprinkle over top.
Green tip: A simple recipe like this is where the lovely flavour of stone ground flour really shines. Look in your natural food stores for flour milled from wheat that is grown in your region.
Lemon Biscuits
Makes about 4 dozen
Ingredients:
3 ¼ cups flour
½ tsp. baking soda
Pinch of salt
¾ cup butter, melted
1 ¼ cups sugar
1 Tbsp. lemon zest
2 eggs
Extra sugar for sprinkling (Make my Citrus Sugar)
Instructions:
Preheat oven to 375 F
In a large bowl whisk together the flour, baking soda and salt.
In another bowl beat together the melted butter, sugar and lemon zest.
Beat in the eggs, one at a time.
Stir in the flour mixture and mix until incorporated.
Gather dough into a ball, flatten into a disk and cut in half. Roll dough out on a lightly floured surface to ¼" thick. Cut into squares or into shapes with a cookie cutter.
Place on a parchment lined cookie sheet about an inch apart. Sprinkle with sugar.
Bake at 375 F for 10-12 minutes, or until lightly golden on the edges.