Vegan cream of broccoli soup is a creamy, cream-less soup with substance. Ready in 30 minutes. (Parmesan optional.)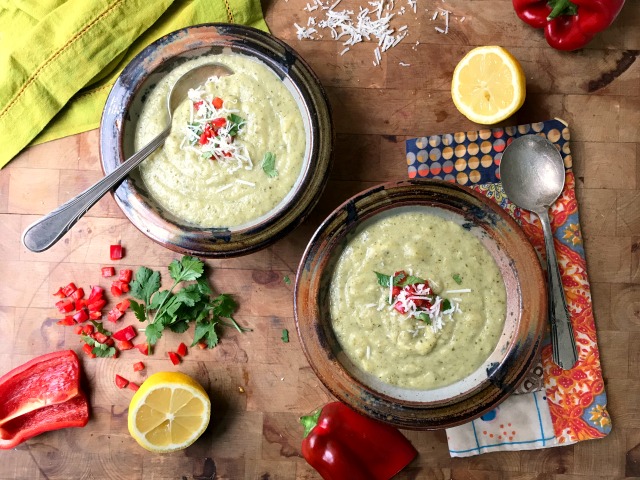 I was on the UNB campus recently, dropping off my son and the feeling of campus this time of year got me thinking about my years away at school.
My twin brother and I went off to St. F.X. together. It wasn't a large school and our respective residences weren't too far apart – just at opposite ends of the football field. Still, to make sure we spent time together my dad would sometimes mail us each half of a $20 bill so we'd at least connect to tape it together.
I, in turn, would sometimes stuff an envelope full of magazine cut outs of vegetables (especially broccoli) and mail it off to dad. It was when I knew my mom was away and I was pretty sure that dad was eating nothing but fried steak and frozen peas.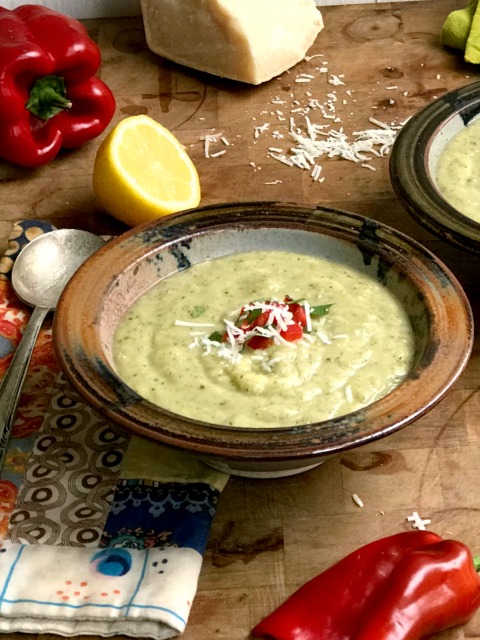 Dad wasn't a fan of broccoli so in some strange way broccoli reminds me of him. He was especially fond of creamed soups though so making creamed soups was an easy way to get him to eat his vegetables.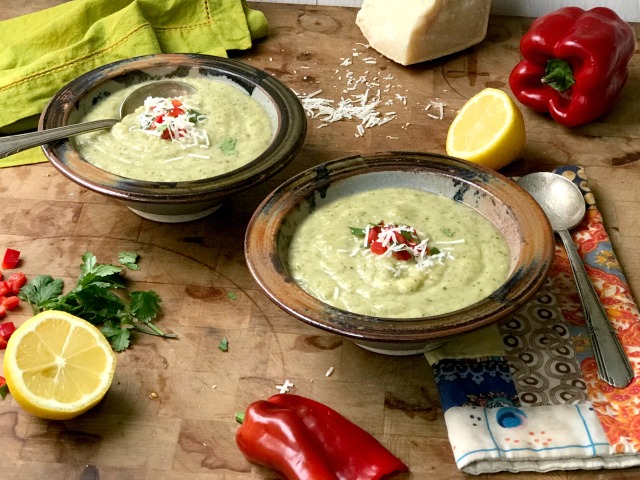 This recipe is different than a traditional creamed soup because it has no cream or milk. Instead the creaminess and thicker texture comes from a potato that is cooked along with the broccoli. Navy beans (optional) add substance.
The recipe calls for about four cups of chopped broccoli but the soup can take an extra cup or so if you don't want leftover broccoli. I use the stalk too, peeled with a vegetable peeler and the rough end cut off.
Vegan Cream of Broccoli Soup
Ingredients:
1 Tbsp. olive oil
1 onion, chopped
1 clove of garlic, chopped
1 medium potato, peeled and chopped
1 small red pepper, chopped
Pinch of red pepper flakes
4 cups chopped broccoli
4-6 cups of vegetable broth, divided
½ cup cooked navy beans (optional)*
1 bay leaf
½ Tbsp. Dijon mustard
Sea salt and pepper
Juice of half a lemon
¼ cup grated Parmesan or ½ cup grated old cheddar (optional)
Instructions: 
In a large pot saute the onion in the olive oil. When soft add the garlic, potato, red pepper and red pepper flakes.
Stir for a few seconds then add the broccoli, 4 cups of the broth, navy beans of using, and bay leaf.
Bring to a simmer and cook until the broccoli and potato are tender.
Remove from heat, discard the bay leaf and puree, with an immersion blender or in a food processor or blender. (Cool a bit before blending out of the pot.)
When pureed, return soup to the stove over low heat. Adjust consistency with remaining broth (depending on how thick you like your soup).
Stir in mustard and season with salt and pepper. Add cheese and lemon.
Navy beans could be replaced with cooked lentils)