Spicy Cajun shrimp is quick and easy. Made with store bought Cajun spice but recipe also includes a homemade Cajun spice blend. Doubles well.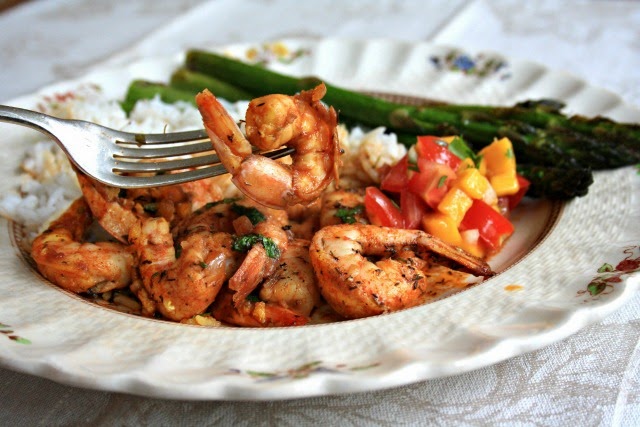 This spicy Cajun shrimp recipe is made with a flavourful homemade Cajun spice blend.
I come from a large family and we love to have big gatherings that usually involve food. Finding dishes that are delicious, can feed an army, and don't involve chicken, turkey or ham can be hard to come by. Thirty-minute from-scratch meals that can feed us all are rarer yet, which is why I think this spicy Cajun shrimp recipe has been so enduring.
This recipes doubles well, triples even as long as you have a dish large enough to accommodate the shrimp in a single layer.
My dad discovered it in a Bon Appetit magazine in 1992. He wasn't a food magazine kind of guy so how he came across the recipe mom isn't sure but it did feature a big photo, so maybe that's why it caught his eye. And he always did love spicy food The article it appeared in was titled "Too busy to cook" and featured quick and easy recipes that are dinner party worthy but speedy enough to prepare on a week night.
Spicy Cajun shrimp doubles well, triples even, as long as you have a dish that's large enough to accommodate the shrimp in a single layer.   We love it best over basmati rice to sop up all of the tasty juice. I have also had delicious results using the marinade for haddock and cod.  
Below is my slight adaptation of the original recipe.  
Spicy Cajun shrimp: 30-minute meal
Course: Fish and Seafood, Main Dish
Difficulty: Easy
Easy, delicious and satisfying. Recipe doubles well.
Ingredients
½ cup olive oil (I have used as little as 1/4 cup with good results)

2 Tbsp. Cajun Seasoning (*see below for homemade version)

2 Tbsp. lemon juice

2 Tbsp. chopped parsley

1 Tbsp. honey, maple syrup or molasses

1 Tbsp. soy sauce

1/2 Tbsp. Worcestershire sauce

1 lb. shrimp, peeled

Homemade Cajun Seasoning

1 tsp thyme

1/2 tsp rosemary

2 tsp paprika

1/4 tsp smoked paprika

1 clove garlic

1/4 onion, minced

1 bay leaf

pinch cayanne
Directions
Combine marinade ingredients in a large baking dish and add the shrimp, tossing to coat well.
Let the shrimp rest in the marinade for 15-30 minutes (if you have time).
Bake at 450 for about 10 minutes, or until shrimp are pink.