Salad can be a substantial supper when you fill it with hearty protein and extra vegetables.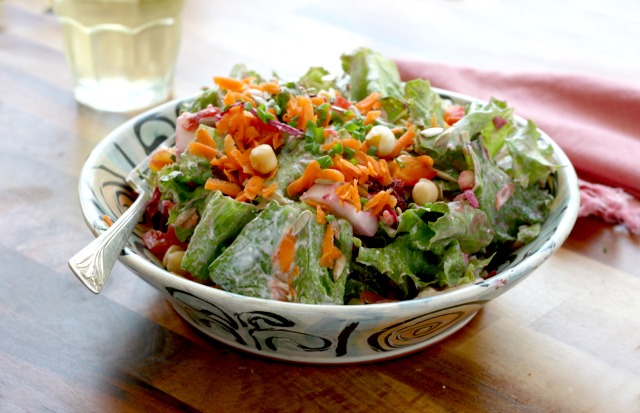 This can be a fridge-cleaning kind of salad.
As much as I love to cook, I always find spring a confusing time in the kitchen. When the weather starts to turn I no longer crave the hearty soups and stews that I cook all winter, but I have a hard time remembering what my go-to spring recipes have always been. It's a transition that trips me up every year.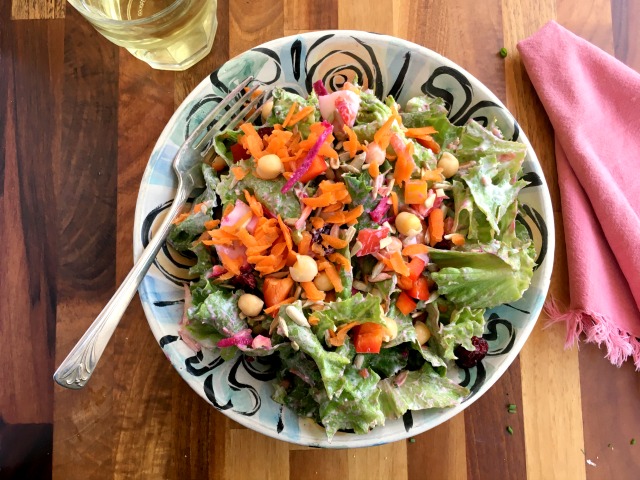 Main-Dish Rainbow Salad is a speedy, satisfying supper.
Twenty years ago when spring weather appeared and my husband and I couldn't decide what to make for supper we'd stop by the
Saint John City Market
and pick up a giant Whale Salad, a create-your-own, main-course salad from a place called the Whale Café. The Whale Salad was substantial, filling and just right for a spring evening.
(The Whale Salad is still available at
The Wild Carrot
, the restaurant in the Saint John City Market that is in the same location as the original Whale Café.)
It wasn't long before we started making our own version of the salad with whatever we had on hand. We call ours the Super Salad.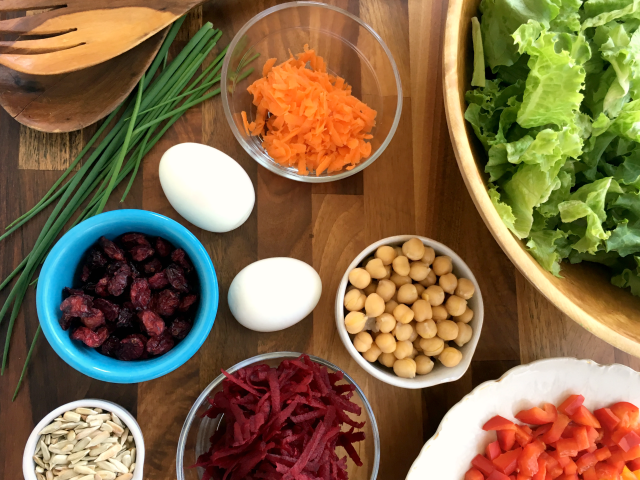 The base of the salad is lettuce but then you load on grated and diced vegetables, some sort of protein, nuts or seeds, cheese, and your favourite salad dressing. It can be a fridge-cleaning sort of dinner and is extra healthy.
This salad is even better when tossed with a homemade creamy feta salad dressing.
Main Dish Rainbow Salad Recipe
Serves two
Lettuce for two, chopped
1 cup diced and/or grated vegetables
1 cup protein (combination of 1-2 kinds)
¼ cup nuts and/or seeds and/or dried fruit
¼ cup grated or crumbled cheese
Combine ingredients in a large bowl and toss with dressing.
Vegetable ideas: Grated carrots, grated raw beets, diced cucumber, diced bell pepper, fresh peas, shredded red cabbage.
Protein ideas: Hard boiled eggs, tin of salmon, cooked chickpeas or lentils, cooked, shredded meat or fish
Toppings:
toasted sunflower seeds, chopped almonds, walnuts, raisins, dried cranberries, currants.
Cheese: feta, Parmesan, grated cheddar or other firm cheese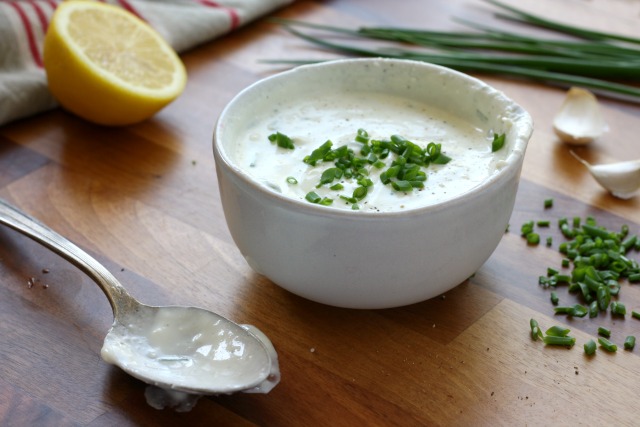 Creamy Feta Dressing Recipe
1 cup plain yogurt (Greek preferred)
¼ cup feta cheese
Juice of ½ a lemon
1 Tbsp. olive oil
1 small clove garlic
Salt & pepper to taste
Fresh herbs (chives, oregano or basil)
Whir everything in a food processor, just enough to combine (otherwise it gets too runny).
Tip: Try this dressing as a dip for vegetables.